Kiir in Nimule town for a private visit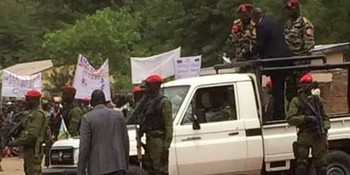 South Sudan's President, Salva Kiir Mayardit, is currently in Nimule on a private visit during which he also addressed a crowd of citizens in the area today. The small border town of Nimule is the country's southern gateway to neighboring Uganda.
Kiir brought two of his children to visit their mother's grave in Pageri area on Saturday. Kiir's wife Achol Philip Nhial died in 1993 and was buried in the area of Pageri.
President Kiir also appeared in public in the town of Nimule putting on military uniform.
Imatong Governor Tobolio Alberio told Radio Tamazuj that people prayed at the grave of the deceased mother when Kiir and his children came to Pageri. "Kiir brought two of his children to visit the grave of their mother, so the people of Imatong also said they need Kiir to talk to them," he said.
The top state official pointed out that the people of Nimule urged President Kiir to bring about peace in the country. "Women in Nimule also said they need schools, hospitals and farming tools," he said.
Alberio said the South Sudanese leader urged the rebels to accept peace and national dialogue in the country."" Kiir said those who are taking up arms should return so that people can talk to bring about peace," he said.
Kiir is expected to return to Juba on Monday.