Kiir: I have forgiven Riek, let him return to Juba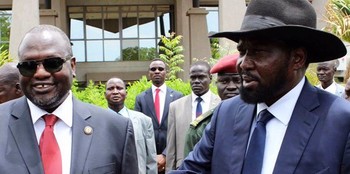 South Sudan's President Salva Kiir last Friday crowned his last address at the SPLM meeting in Juba as chairman of the governing party with a message of reconciliation and forgiveness to his opponents.
President Kiir said he wants his exiled former deputy Riek Machar to come back to the nation's capital Juba, pledging that he will provide full protection to him.
The South Sudanese leader said he had also requested regional leaders to bring the country's rebel chief Riek Machar to Juba instead of relocating him to another country.
"I said you bring Riek Machar to Juba here. Bring him to Juba and I will guarantee his safety, and I will protect him with the national army. If you don't believe me, the RPF is here. You bring the RPF to take charge of the security of Riek Machar in Juba," Kiir said in a recorded audio obtained by Radio Tamazuj.
"Juba is the place where we will be meeting him and we talk to him. If you take him to Nigeria we will not get him," he added.
"Nobody would believe that I would call for Riek to be brought, but I said bring him because Riek is a citizen of South Sudan."
Kiir said that he had forgiven his archrival Riek Machar of offence he might have committed. "What we are doing here is forgiveness… Riek is a citizen of South Sudan and he will return," he said.
The president said his opponents should not fear him." Some say if they come to Juba Salva will kill them, but I am not a killer. I don't like killing, and my soldiers in the SPLA army know this very well," he said.