Kiir: 'I and Machar have forgiven each other'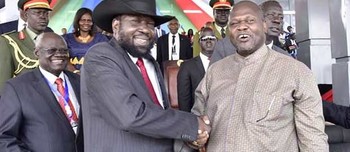 South Sudanese president Salva Kiir said he and his former deputy and opposition leader Riek Machar have forgiven each other to secure lasting peace in the country.
Kiir made the comments while addressing a jubilant crowd during the peace celebration in the capital Juba on Wednesday. The event was also attended by several regional leaders and opposition officials.
The South Sudan warring parties signed the peace agreement in the Ethiopian capital Addis Ababa in September to end the conflict.
"Dr. Riek Machar and I and all the opposition leaders who signed the agreement have forgiven each other. We consciously decided to move this country forward," Kiir said.
The South Sudanese leader said the revitalized peace deal has brought an "immediate end" to the devastating conflict, pointing out that the five-year civil war was a complete betrayal to South Sudanese and the liberation struggle.
"I want to reiterate in front of all of you and in the presence of all the African and world dignitaries that the war in South Sudan has come to an end," he said.
Kiir ordered his forces to allow people to move freely and urged the opposition to reciprocate the call for unhindered movement.
"This will facilitate the movement of humanitarian supplies because we want all the land routes and river routes to be open. It will facilitate movement of humanitarian supplies, trade, reconciliation and most importantly internally displaced people to return to their homes," he said.
Kiir offers an apology
President Kiir apologized to the people of South Sudan on behalf of all warring parties for their immense suffering due to the conflict.
"You have endured immense suffering and the weight of responsibility heavily falls on my shoulders as your president … I deeply regret the physical, psychological and emotional wounds you have undeservedly endured. As your president, I want to apologize on behalf of all the parties to the conflict as leadership requires acceptance of responsibility," he said.
Kiir said South Sudanese should end the blame game over the civil war that broke out in December 2013, urging all political leaders to accept the blame collectively.
A recent report published by the London School of Hygiene and Tropical Medicine estimates that at least 382,900 people have died as a result of the country's five-year civil war.