Kiir hopes peace spoilers will not derail new peace deal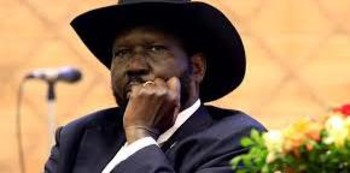 REUTERS/Mohamed Nureldin Abdallah/File Photo
South Sudanese president Salva Kiir hopes that peace spoilers will not derail ongoing peace efforts to end the conflict in the country.
The most recent peace accord in 2015 held for months only before fighting resumed in the capital Juba in July 2016.
"On 11 September, most of our people will go to Addis Ababa for peace… If that has become the only venue where the agreement will be signed, then I will also be required to go there," Kiir said on Sunday.
"The agreement is scheduled to be signed on the 12th of this month. Let's hope that it will not again be derailed by those who do not want peace in South Sudan," he added.
Kiir vowed to work hard to ensure that the final peace deal is signed.
Separately, the African bloc IGAD confirmed that the 33rd Extraordinary Summit of Heads of State and Government will be held on 12 September in Addis Ababa.
In a press release extended to Radio Tamazuj this evening, the secretariat of IGAD said the leaders will deliberate on South Sudan peace and other issues in the region.
For their part, several warring parties confirmed that they will travel to Addis Ababa to attend IGAD meetings.
Gabriel Changson Chang, interim lead of the opposition alliance, said they had received invitation letters to travel to Addis Ababa on Tuesday.
Kornelio Kon, who leads the national alliance of political parties, said he will travel to Addis Ababa to attend the IGAD summit.