Kiir hopes for peace in Christmas message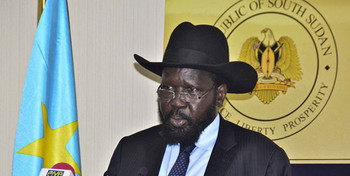 South Sudan's President Salva Kiir has offered a glimmer of hope for renewed peace in the country as the people of South Sudan celebrate Christmas this year.
In his Christmas Eve message, Kiir reiterated his government's commitment to peace and national dialogue. "I am hopeful for renewed peace in South Sudan and while we gather in churches and homes across the national on Christmas Day, I urge you all to join me in praying for our many displaced, "said Kiir.
Kiir also expressed his concern about the current security situation and economic crisis in South Sudan. "We are working firmly to ensure peace and economic stability so that very soon, you can return to your villages and homes to continue your lives as you once were," he said.
"As we end one year and begin another, we must recommit ourselves to the cause of people and extend the hand of unity and friendship across all divides," he added.
The South Sudanese leader said the national dialogue process remains an important tool to complement the peace process in the country.
"I encourage you to embrace the national dialogue as an opportunity for the people of South Sudan to advance healing and reconciliation," he said.
"Peace and unity among our people remain my top priority and all efforts will be expended to realize this," he added.
"I wish you all a Merry Christmas and may spirit of the season remain with you today and throughout the New Year."