Kiir hints he may form government without Machar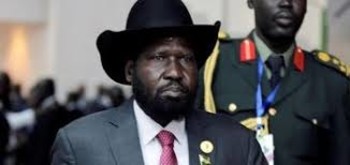 President Salva Kiir during the 30th Ordinary Session of the Assembly of the Heads of State and the Government of the African Union in Addis Ababa, Ethiopia January 29, 2018. /REUTERS
South Sudan's President Salva Kiir on Thursday hinted at the possibility of forming a unity government without Riek Machar should he refuse to return to Juba in November.
Kiir was speaking during national peace and healing prayers organized by South Sudan Council of Churches in the capital, Juba.
"If the SPLM-IO under Dr. Riek doesn't want to cooperate on the timely formation of the unity government in November, I will go ahead with the other parties which are signatories to the revitalized peace agreement and form the government," Kiir said.
"I want my colleague Henry Odwar to convey my message to Dr. Riek Machar that we are needed to come to Juba," he added.
The South Sudan leader reiterated his commitment to the revitalized peace deal signed with the opposition in September 2018. "We will work together the opposition groups that signed the peace agreement to make sure that we don't return to war," he stressed.
Kiir vowed to work with heads of the organized forces to control crimes occurring in Juba, appealing to the country's citizens to cooperate with the security forces in order to control crimes.