Kiir heads to Khartoum on official visit today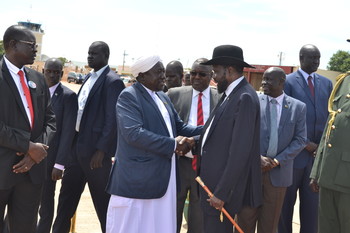 South Sudanese President Salva Kiir left Juba for the Sudanese capital, Khartoum today for a two-day official visit during which he will meet his counterpart President Omar al-Bashir.
Kiir was seen off by First Vice President Taban Deng Gai and several government officials. A short statement from Kiir's office said the he is being accompanied by several officials in the presidency.
Mayiik Ayii Deng, Minister in President Kiir's office, told reporters at Juba International Airport that Kiir will discuss issues pertaining to borders, trade and resumption of oil production in Unity region.
"The president is going to discuss three main issues with his brother Omar al-Bashir. One is the resumption of oil in former Unity state. Second, we are going to discuss the reopening of the border for trade, and the third issue is the security," Ayii said.
Minister Ayiik said a high-level government delegation had already arrived in Khartoum on Sunday. He further said the issue of the disputed area of Abyei is not among the agenda for discussion in Khartoum.