Kiir fires Warrap governor, appoints a successor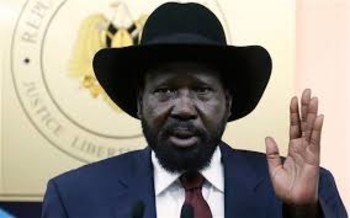 South Sudan's President Salva Kiir Mayardit on Thursday evening issued presidential decrees sacking Warrap state governor Bona Panek Biar and appointing Aleu Ayieny Aleu in his place.
The decrees read on state-run South Sudan Broadcasting Corporation did not mention why governor Panek was relieved barely a year since his appointment into office.
Panek was among eight governors appointed into the revitalized government of national unity in June 2020 on an SPLM-In Government ticket as per the power-sharing arrangement among parties to the revitalized peace agreement.
His dismissal comes before he could form his power-sharing state cabinet with the opposition as provided for in the peace deal.
Newly appointed Warrap governor Aleu Ayieny Aleu was a member of the national parliament and briefly served as minister of the interior.
In a separate decree, Kiir appointed Yath Awan Yath as the undersecretary in the ministry of information, communication, technology, and postal services succeeding Paul Jacob Kumbo who died last year in Khartoum.