Kiir fires finance minister Stephen Dhieu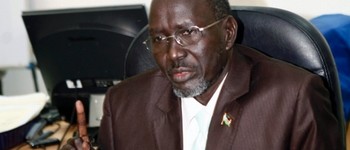 File photo: Stephen Dhieu Dau
South Sudan President Salva Kiir Monday evening sacked the finance minister amid rising inflation and a broke government ravaged by the ongoing civil war.
Kiir replaced Stephen Dhieu Dau with Salvatore Garang Mabiordit Wol as the new minister of finance. Mabiordit was the technical adviser in the ministry of trade.
Stephen Dhieu was not given a new assignment, a rare move.
The president gave no reason for firing Dhieu, who replaced David Deng Athorbei in July 2016.
In another decree, Kiir appointed Erjok Bullen Geu as the new deputy commissioner general of the National Revenue Authority. The South Sudanese leader also fired the assistant chief of defense forces for operations in the SPLA army, Lt. Gen. Marial Chanuong Yol.