Kiir fires acting chief administrator in his office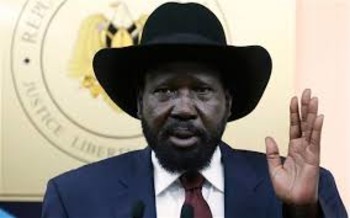 File photo: President Salva Kiir
South Sudan's President Salva Kiir has fired the acting chief administrator in his office without any public announcement on Monday night, a according to a presidential decree seen by Radio Tamazuj.
The decree gave no reason for the decision to remove Bol Wek Agoth from his position as the chief of state protocol and acting chief administrator in the office of the president.
Bol Wek himself confirmed that he was longer in President Kiir's office and was not given any new assignment.
"Yes, there have been administrative changes which did not permit going to the office today, because I was informed in the morning that I am no longer the acting chief administrator. There were changes within the presidency with the knowledge of the president," said Bol.
Bol further said he did not ask for the reason because it is the prerogative of the president to appoint and make changes without providing explanation.
Officials working at the presidency said the chief administrator is a civil servant and that his removal does not require any official presidential order.