Kiir declares unilateral ceasefire with rebels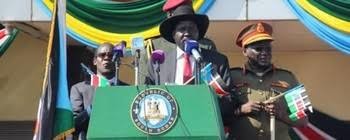 Photo: South Sudan President Salva Kiir speaks to citizens at Juba International Airport on Sunday August 10, 2014. (Radio Tamazuj)
South Sudan President Salva Kiir on Monday declared a unilateral ceasefire with rebels as part of his bid to end the ongoing civil war in the world's youngest nation, while ordering the security agencies to create an atmosphere for the national dialogue.
Kiir made the announcement in his address during the official launch of the national dialogue at Freedom Hall in the capital Juba today.
"I am also once again declaring a unilateral ceasefire effective immediately. I further order the SPLA command to immediately observe this in their defensive positions," said Kiir.
However, Kiir said the SPLA army will fight back in case of any attack by the opposition forces across the country. "Of course all us who are soldiers in this hall know that unilateral ceasefire cannot be binding on the other side. But you the same who on the side that you declare ceasefire from, you deserve the right also to defend yourself if you are attacked," he said.
He further said he has directed the prosecutor general to immediately review the cases of political prisoners and ensure the necessary steps are taken to lead their release.
Kiir noted that the unilateral ceasefire was declared with both to create an environment for an inclusive dialogue and to facilitate the movement of humanitarian aid to famine-stricken areas.
He appealed to the national dialogue committee and its secretariat to conduct wider consolations to give the people of South Sudan the opportunity to air their views and aspirations for restoring peace to the country.
"The dialogue should start with those that are willing while the committee continues to engage those who are hesitant or have concerns. The government stands ready to accept and implement the outcomes of National Dialogue process," he said.
The South Sudanese leader pointed out that the dialogue is the best way of addressing numerous challenges confronting the country.
"Although many critics doubted our intentions, we have listened to the voices of our people and their call for an inclusive dialogue process. We have an enlarged steering committee and secretariat to allow participation of our people, including opposition figures," he said.
Kiir called on the opposition leaders to embrace the spirit of national unity and join the national dialogue so as to end the violence in the country.
He also called on the regional and international partners to work closely with the steering national dialogue committee and support the dialogue process for the sake of peace in South Sudan.
In December 2016, President Kiir, whose wrangling for power with his former deputy Riek Machar plunged the world's newest nation into a brutal conflict, Kiir called for "national dialogue" to end the ongoing civil war.
But the opposition described the dialogue to end the ongoing conflict as "bogus".