Kiir declares state of emergency in parts of South Sudan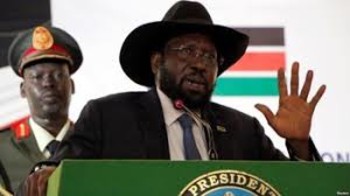 File photo: President Salva Kiir
South Sudan's President Salva Kiir on Monday night declared a state of emergency in Gogrial, some parts of Tonj, Wau and Aweil East states for three months.
The president, under the country's transitional constitution, has powers to declare a state of emergency in consultation with the national legislative assembly.
It remains unclear what necessitated the president's impromptu decision, which could partly be linked to insecurity in those areas.
It is the second time for the Republic of South Sudan to declare the state of emergency after a curfew was imposed in Juba following deadly clashes that erupted in December 2013.
In January 2014, Kiir declared a state of emergency in Unity and Jonglei States.