Kiir declares state of emergency in 3 states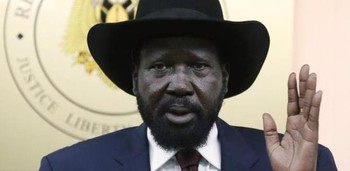 Photo: President Salva Kiir (Tamazuj file)
South Sudan's President Salva Kiir has declared a three-month state of emergency in Gok, Eastern Lakes and Western lakes states, where inter-communal clashes intensified.
Kiir, in a decree read on the state-run SSBC on Monday night, ordered the army chief to disarm all armed youth involved in deadly clashes between communities in the states under lock down.
The decree gave powers to the military to stop the tribal fight and ordered the army to use force against whoever rejects the disarmament exercise.
The South Sudanese leader also ordered SPLA soldiers previously tasked to carry out a disarmament exercise in Gogrial state to move to Tonj state to prepare for the new assignment.
Nearly 173 people were reported killed in clashes in Western Lakes between armed youth from the Rup and Pakam clans last week.
It is the third time for South Sudan to declare the state of emergency after a curfew was imposed in Juba following deadly clashes that erupted in December 2013.
In July, Kiir declared a state of emergency in Gogrial, some parts of Tonj, Wau and Aweil East states for three months.