Kiir commends women's resilience in South Sudan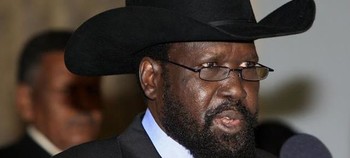 President Salva Kiir has hailed South Sudan women on the occasion of the International Day for women – a day set aside by the United Nations to celebrate women worldwide.
In his message today, Kiir said he recognizes South Sudan women and girls for their courage, strength and resilience.
"We recognize your many achievements and contributions to our society. And in the special case of South Sudan, we acknowledge your solidarity in the search for peace," he said.
Kiir assured South Sudan girls that he is working for the advancement of their rights. "I encourage you to never doubt your ability to accomplish your goals and dreams," he said.
Separately, Gisma Mou Mou, Chairperson of Voice of South Sudanese Diaspora (VoSSD), thanked the South Sudanese women for their resilience in the ongoing conflict. "Women are and must remain the agents of peace and development," she said.
"I want women to be the leaders when it comes to the fight against war and corruption. Women must make our nation great again," she added.
Mou said South Sudanese women needed to be recognized and given the same treatment as men in the country.
Rebecca Joshua Okwachi, Minister of Roads and Bridges said the role of women in shaping families in South Sudan is one worthy of celebration as women have selflessly dedicated themselves to the nurturing and upbringing of their children, besides their role in the liberation struggle.
She pointed out that the contribution of women to South Sudan's independence has been phenomenal. "While we celebrate this day, it is a time to reflect on the progress made and the progress that will be made," she said.
Meanwhile, Awatif Nyok, Ruweng's Minister of Agriculture has praised the courage and resilience of South Sudanese women. She called on the top leadership to work for emancipation of women in South Sudan for the sake of progress and development in the country.
Awatif urged South Sudan women to remain resilient in their quest for positive change.
International Women's Day is a worldwide event that celebrates women's achievements – from the political to the social – while calling for gender equality.
It has been observed since the early 1900s and is now recognized each year on March 8.