Kiir calls for rare meeting as talks on states hit a 'deadlock'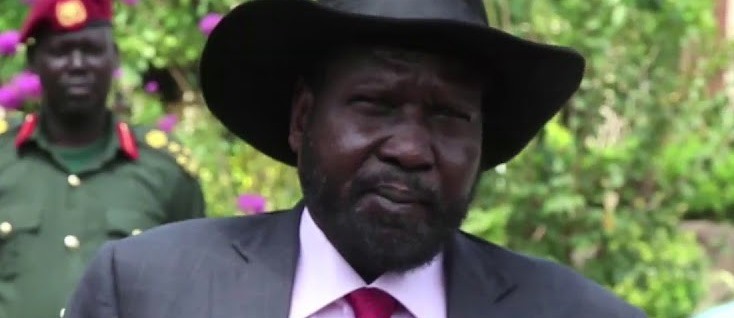 File photo: South Sudan President Salva Kiir
President Salva Kiir has called for a rare meeting of the country's top officials on Saturday as talks aimed at resolving the contentious issue of the number of states hit a deadlock.
This comes after government supporters resolved to maintain the current 32 states plus Abyei during a consultative meeting held in Juba on Friday.
The rival parties have failed to agree on the number of states and boundaries the country should have, even as the February 22 deadline for the formation of a transitional government draws near.
The opposition insists on a return to the original 10 states, or 23 states based on colonial boundaries.
In a letter signed by the minister in the office of the president, Kiir has invited cabinet ministers, presidential advisors, members of SPLM Political Bureau, party leaders and top security officials to "attend an important meeting " at the presidential palace on Saturday morning.
Observers fear the revitalised peace agreement is in jeopardy, with some social media users questioning the suitability of the country's political leaders to forge a lasting peace.
It is unclear if President Salva Kiir and opposition leader Riek Machar, who currently lives in exile, will meet the February 22 deadline to form a unity government.
The parties have twice failed to form a unity government, first in May 2019 and then in November the same year, when they agreed to give themselves100 days to resolve disputed issues and establish the government by February 22.
Under the terms of the peace deal, the rival parties are to create a unified army and agree on the number of states and their boundaries.