Kiir blames US for peace talks' failure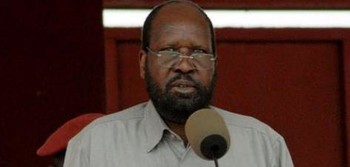 President Salva Kiir. Photo: Reuters
South Sudan's President Salva Kiir blamed the United States of America for failed peace talks between his government and opposition groups in the second round of negotiations in Addis Ababa.
Kiir told the East African Community summit in Uganda on Thursday that the US arms embargo imposed on his government just days before the revitalization process kicked off in Addis Ababa was the main reason that led to the end of the talks without any results.
The South Sudanese leader said the US sanctions emboldened the opposition groups who now believe the Juba government will collapse at any time soon.
"The talks ended without any results simply because the rebels thought that the government is going to fall," Kiir said.
He urged the East African community leaders to protect its members and reiterated his government's commitment to peace.
The second round of peace talks sought to revitalize all the chapters of the 2015 peace deal. The mediation team said the South Sudan warring parties will resume the talks in March.