Kiir, Aweil legislators hold talks over security matters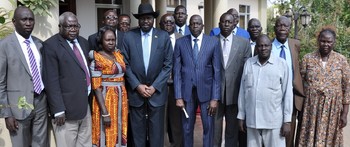 Members of South Sudan's parliament representing the areas of Aweil held talks with President Salva Kiir at the presidential palace during which the two sides expressed commitment to working together to diffuse tension over the killing of three brothers and the dispute with the country's former army chief of staff.
Kom Kom Geng, a member of parliament from Aweil East, home to the former army chief of staff Paul Malong Awan, told Radio Tamazuj on Tuesday that they met with the president on Monday to discuss two important issues with the leadership of the country and Aweil community.
"We, all members of the greater Aweil State members of transitional national parliament met on Monday afternoon with His Excellency the President of the Republic, General Salva Kiir Mayardit in the State House, Juba. Our discussions with him were fruitful. The discussion centred on security and political issues. The meeting was an opportunity as the people's representatives to present a position paper on the current political standoff between General Malong and the government, "said Kom.
"We also registered our concern with regard to the killing of the three family members recently in Juba with his Excellency. We know the government cannot kill its own people. The anti-peace elements and criminals always want to exploit any situation and because of this, we decided to go to his Excellency to share with him our thoughts and views about how we as the members of parliament from the area and the government can work together to diffuse the tension", he said
The members, according to Kom, distanced themselves and the constituencies they represent from the dispute between the government and former army chief of staff, Paul Malong. They reiterated their full support to President Kiir and the Transitional Government of National Unity. The legislators said their role as representatives of the Greater Aweil is that peace is consolidated in the country.