Kiir approves chief whip's resignation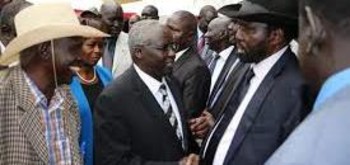 President Salva Kiir, who doubles as chairman of the SPLM party, approved resignation of Atem Garang as chief whip of the governing party in national parliament.
Kiir on Tuesday at a closed-door meeting of the SPLM party caucus in Juba, appointed Stephen Ajongo Akol Unguec as the new chief whip in the assembly.
Atem tendered his resignation to the party leadership recently in protest against a move by members of the parliament to demand pay rise amid the country's economic crisis.
He argued that allowances of parliamentarians cannot be improved under the current economic crisis in the country.
Addressing the SPLM caucus, President Kiir said he was fully aware of the problems and challenges of the parliamentarians.
He urged all members of the SPLM caucus to unite for the sake of unity in the ruling SPLM party.