Kiir appoints members to pre-transitional committee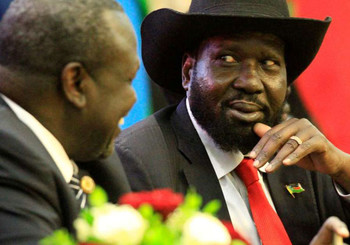 South Sudan's President Salva Kiir on Tuesday appointed members to the National Pre-Transitional Committee (NPTC), a body established in line with the implementation of the revitalized peace deal.
Below are the members of the NPTC:
- Tut Gatluak Manime, nominee of the unity government, chairperson
-Henry Odwar, nominee of the SPLM-IO, deputy chairperson
-Gabriel Changson Chang, nominee of the South Sudan Opposition Alliance (SSOA), deputy chairperon
-Martin Elia Lomuro, nominee of the unity government, secretary
-Michael Makuei Lueth, nominee of the unity government, member
-Dhieu Mathok Diing, nominee of the unity government, member
-Awut Deng Achuil, nominee of the unity government, member
- Deng Alor Kuol, nominee of the Former Detainees (FDs), member
- Puot Kang, nominee of the SPLM-IO, member
-Peter Mayen Majongdit, nominee of the other political parties outside the current unity government, member
Reacting to the presidential order, a South Sudanese civil society group welcomed President Kiir's order and congratulated the parties for meeting the deadline.
Edmund Yakani, the Executive Director of the Community Empowerment for Progress Organization (CEPO), urged the parties to observe the ceasefire deal.
However, Yakani said he was disappointed by inadequate representation of women in the NPTC body. He urged the parties to appoint more female members to the committee.
"We urge the government to appoint another female member to the committee and the SPLM-IO should nominate one female member," Yakani said.
Betty Sunday, the coordinator of Women's Monthly Forum Organization, called on the parties to represent women adequately in line with the signed peace agreement.
The revitalized peace agreement sets out a 35% Affirmative Action quota for women in government.