Kiir appoints governor for troubled Jonglei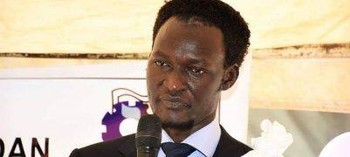 File photo: Denay Jock Chagor
South Sudanese President Salva Kiir Wednesday night named a governor for Jonglei state after a deadlock over the nomination process.
Jonglei and Upper Nile were the only states left without governors when President Kiir appointed state governors in late June.
South Sudan Opposition Alliance (SSOA) – a third party to the September 2018 peace agreement – had been locked in a long impasse over the nomination of a candidate to be appointed as governor for Jonglei state.
There have been reports of rising violence between rival communities in the Greater Jonglei state, where thousands of people left their homes and in need of humanitarian assistance.
Riek Machar's party, the Sudan People's Liberation Movement-in-Opposition (SPLM-IO), was allocated three states, including Upper Nile state, where the appointment of a governor is still pending.
In a presidential decree read on South Sudan Broadcasting Cooperation (SSBC), the president removed Denay Jock Chagor from his position as Minister of Higher Education and appointed him as the governor of Jonglei state.
Denay, a leading member of South Sudan Opposition Alliance (SSOA), was appointed to the ministerial position on March 12, as part of the new Transitional Government of National Unity.
In another decree, President Kiir appointed Gabriel Changson Chang, a senior member of South Sudan Opposition Alliance (SSOA), as the new Minister of Higher Education.
Kiir also appointed Deng Alor Kuol as the new Minister for East African Community Affairs, replacing the late John Luk Jok, who died in Juba last month.
Deng Alor, who served as foreign affairs minister in the previous government from 2016 to 2018, is the leader of the SPLM-FDs.