Kiir allows US envoy to meet detained opponents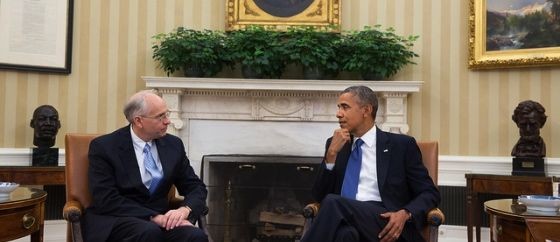 Donald Booth, a senior American diplomat, was today granted permission to meet with detained opponents of President Salva Kiir in the capital of South Sudan. He says that he had "a very constructive meeting with His Excellency the President and His Excellency the Minister of Foreign Affairs."
Ten dissidents from Kiir's party including ex-ministers and a former deputy chief of defense were arrested last week after clashes broke out within the presidential guards. They are accused of attempting a coup, but their ally Rebecca Garang says they are innocent and are all peaceful opponents with nothing to do with the army.
During the ongoing fighting last Tuesday, Radio Tamazuj learnt that the detainees were being held at the house of the Inspector-General of Police in Amarat neighborhood of Juba, but apparently they have since been moved.
Late last week a ministerial delegation of the Inter-governmental Authority on Development (IGAD) returned to Addis Ababa after having failed to meet with the detainees. The group which represents several East African countries had played a key role in the CPA negotiations that ultimately led to South Sudan's independence.
Speaking to reporters after a meeting with President Kiir, diplomat Donald Booth said they "explored ways that the United States and others in the international community can work with all parties in South Sudan to try to bring the country back from the precipice of the conflict which has been spreading over the past week here."
Booth was previously George W. Bush's ambassador to Liberia and Zambio, and Barack Obama's ambassador to Ethiopia. He now serves as Obama's special envoy to Sudan and South Sudan. He was last in Juba during an investment conference two weeks ago.
Referring to the detained former ministers, Booth said he would seek their input for how to start negotiations on ending the conflict. "The president has graciously granted me the opportunity to go and meet with them because I want to explore with them their ideas for also how to get a peaceful political dialogue underway in South Sudan."
Call for Christmas ceasefire
Donald Booth said that the United States supports the appeal by the African Union for a ceasefire during the 'Christmas season.'
"We noted that the African Union has said that there is the Christmas season upon us and called for all parties to cease hostilities. We support that call. We believe that it is important that people take a pause, before the emotions run too high, before too much killing happens to stop and to find a way to sit down and talk with one another to achieve a peaceful solution going forward," he said.
File photo: Donald Booth and Barack Obama (whitehouse.gov)
To contact Radio Tamazuj with comments, news tips or information, write to radiotamazuj@gmail.com.