Khartoum-Juba security talks postponed over 'logistical issues'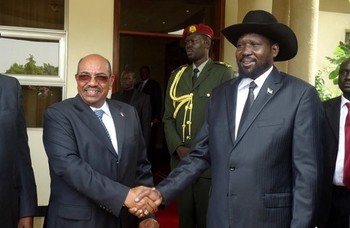 File photo: South Sudan's President Salva Kiir shaking hands with Sudan's President Omar al-Bashir (gurtong.net)
Meetings of the Joint Political and Security Committee (JPSC) between Sudan and South Sudan scheduled to be held in Juba shortly after Eid Al Fitr, was postponed due to logistical reasons, a South Sudanese official said.
Mawien Makol Ariik, the foreign affairs ministry spokesman, announce for the second time the delay of security meetings to discuss pending issues between the two countries and allegations of rebel support on both sides, rather than using the media to blame each other.
The South Sudanese diplomat told Radio Tamazuj that a new date will be fixed for the talks later on.
South Sudan broke away from Sudan in July, 2011, following a referendum held in January of that year.