Khartoum and Juba to resume defence talks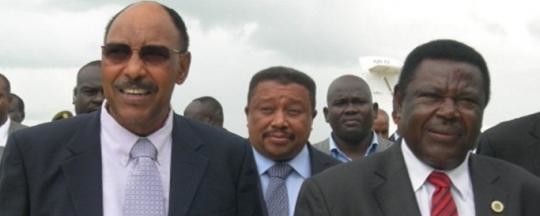 Sudan and South Sudan are expected to resume on Thursday meetings of the Joint Political and Security Mechanism (JPSM), a committee tasked by the Addis Ababa agreement with overseeing the demilitarization of the border zone.
The meetings in the Ethiopian capital are convened at the request of the mediation, the African Union High Level Implementation Panel (AUHIP).
Gen. Imad Al Deen Adwa, heading the team responsible for the security file, left the Sudanese capital Khartoum today en route to Ethiopia, a source confirmed. His boss, JPSM Co-chair Lt-Gen. Abdel Rahim Mohamed Hussein, the minister of defence, is expected to leave for Addis Ababa on Thursday.
Radio Tamazuj did not yet confirm who would represent South Sudan; formally, the South Sudanese co-chair is Defence Minister John Kong Nyuon.
The Sudanese government is expected to stick to its earlier demand that security issues be the priority on the agenda to be discussed without compromise, the source predicted.
In a related development, the Abyei Joint Oversight Committee will be unable to meet until the South Sudanese government fills the vacancy created by the recent resignation of Dr. Luka Biong Deng.
The co-chair of the committee for the Sudanese side, Al Khair Al Fahim, told the Sudanese Media Center that they have been waiting since last January for the South Sudan government to appoint a new co-chair in order to resume meetings in Abyei about the composition of the security and administrative organs to be formed in the region.
Photo: Abdelrahim Hussein, Sudan's defense minister (left) and Alison Manani Magaya, South Sudan's interior minister (right) at Juba Airport on 5 November 2012 (Juba Post).