ADDIS ABABA -
15 Nov 2017
Khartoum accuses Juba of obstructing peace efforts in Abyei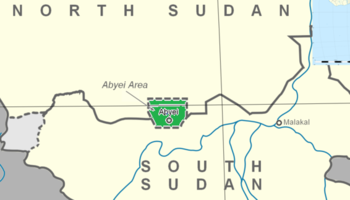 Hassan Ali Nimir, head of Sudan's Abyei Joint Oversight Committee (AJOC) has accused the South Sudanese government of being an obstacle to the peace efforts in the disputed region of Abyei.
Addressing the 12th session of the Joint Oversight Committee meeting in Addis Ababa, Ethiopia on Monday, Nimir said the government of South Sudan has been obstructing the success of their meetings.
Nimir added that South Sudan has stopped sending its delegation to the meetings as required, saying this is not only a clear lack of seriousness about resolving the question of the final status of Abyei, but also a clear violation of the agreement signed between the two countries in 2011.
For his side, Deng Arop, head of South Sudan's AJOC committee said his country was not planning to obstruct the meeting.
Deng called on the African Union representative during the meeting to put more pressure on both sides so that some progress is made in cooperation with the UN force in the region.