Kenya High Court clears cabinet minister Dr. Lomuro of money laundering charges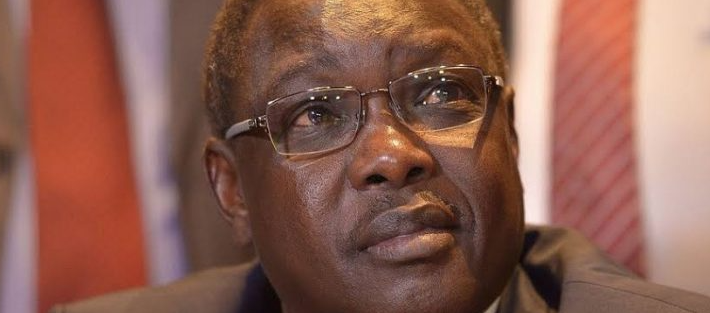 Minister for Cabinet Affairs Dr. Martin Lomuro
The Kenyan Anti-Corruption and Economic Crimes Court division of the High Court last week cleared cabinet affairs minister Dr. Martin Elia Lomuro of money laundering charges brought against him by the Asset Recovery Agency (ARA).
The ARA froze Dr. Lomuro's two bank accounts which contained $124,000 (Ksh13.42 million) in June 2021.
According to ARA, Dr. Lomuro's accounts had numerous suspicious transactions and a transfer of half a million US dollars between them that compelled the agency to freeze them.
Addressing a press conference yesterday in Juba, Dr. Lomuro said he was happy that he had been cleared and vindicated.
"The statement is about the outcome of the Kenya Asset Recovery Agency (ARA) lawsuit against me, the minister of cabinet affairs of the Republic of South Sudan. You will all recall that on 4 June, the ARA obtained an order from the High Court of Kenya preventing me from accessing my account at the Co-operative Bank of Kenya, Co-operative House branch, on allegations that I was involved in money laundering in Kenya and that I used Ms. Reja Keji Lado, who is my wife, as a conduit for money laundering," Dr. Lomuri said.
He added: "I want to say that I am very happy that the Kenya High Court has cleared me of unlawful money laundering allegations. Ms. Reja Keji and I are vindicated and exonerated from the baseless ARA allegations, corruption allegations, and any criminal activities in Kenya."
He said the freezing of his accounts was highly publicized by a large number of media outlets and social media putting his name in undeserved political and social disrepute.
"On hearing the news I promised the people of South Sudan, the region, and indeed the world that I will immediately launch legal proceedings against the ARA. I fulfilled my promise by hiring lawyers to present my defense case against the ARA," Dr. Lomuro explained. "My legal team responded to the unfounded allegation of money laundering by the ARA against me on 7 July through a sworn affidavit to give the details of the legal source of my income and the funds in my account in the Co-operative Bank of Kenya."
He said the ARA, on reviewing his affidavit, was satisfied that the source of his funds was legitimate and legal and not linked to any money laundering activities.
"Thus, on 15 September, my lawyers presented my case before the High Court of Kenya in Nairobi. The court ruled to set aside and rescind its orders of 4 June unfreezing access to my account and declared that I am at liberty to access and transact my account freely," he added.
Dr. Lomuro thanked the4 Kenya High Court for clearing him and the ARA for acknowledging the authenticity of the source of his funds but blamed the latter for being used by foreign powers to target him.
"I do not doubt that the ARA's actions were motivated by the illegal sanctions levied against me on 16 December 2019, which baseless sanctions were inspired by the regime change agenda in the Republic of South Sudan. The non-UN neo-colonialist sanctions intend to damage my reputation and political career beyond repair. Justice has finally prevailed and that puts my enemies into a historical disappointment and shame," Dr. Lomuro said. "Some members in the international community issued unlawful sanctions against me because of standing tall and strong in defending my country's national interests against the masters of regime change in South Sudan."
He took a swipe at his detractors and said he was not corrupt and had never been taken to court in life before this.
"If I was not the person I am, highly integral, confident, and focused, the case would have inflicted permanent psychological trauma in me and my entire family. I have never been to a court in my entire life, leave alone to be accused of serious crime such as that of money laundering," Dr. Lomuro said. "To my political enemies, cybercriminals and social media terrorists, who celebrated the ARA allegations against me, you are now required to update your records that I have nothing to do with money laundering or corruption."