Kenya and South Sudan to prioritize linking roads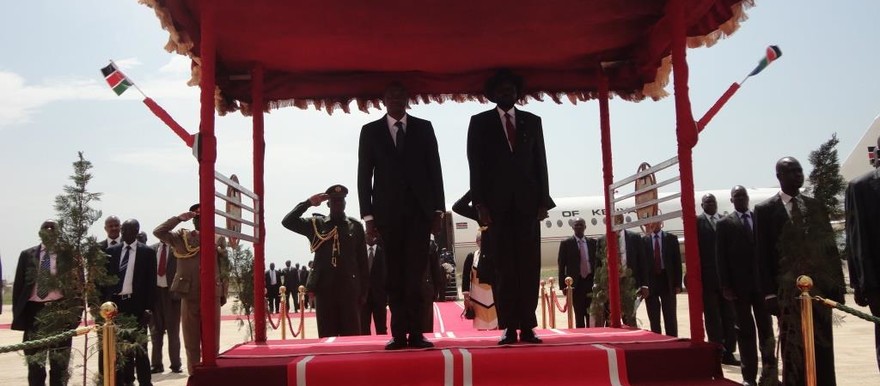 The President of the Republic of Kenya Uhuru Kenyatta made his first visit to South Sudan yesterday and agreed with his South Sudanese counterpart President Salva Kiir to prioritize the road which links the two neighbouring countries, before undertaking other projects.
The two presidents announced to journalists at a joint press conference at the Presidential Palace on Thursday after a closed-door meeting for about an hour.
President Kiir revealed they have discussed mostly issues of bilateral cooperation between their two nations: "Among them is you know, this strategic road from Eldoret, Kitali, down to Lokichokio, to Narus Kapoeta, Torit and Juba. We have talked about this road and we have agreed how to go around it together."
The South Sudan President explained that on behalf of his country he agreed on many projects with the Kenyan leader. These projects include construction of a tarmac road that will link the two countries, building of Lamu Port oil pipeline and a railway. These he said they agreed to approach them one after the other.
"The second thing also is about Lamu project that if we were to, we agreed that we should not take them together. You want to lay the pipeline; you built the tarmac road and the railway. These three things may scare-off the investors and so let us concentrate on one thing," Kiir stated.
On his side, the Kenyan President Uhuru has confirmed they have agreed to prioritize construction of a tarmac road linking the two countries first and delay the other projects.
"As the President has stated we have discussed the importance of the road that links South Sudan to Kenya as being critical to the improvement of trade and the movement of persons between our two nations," stated President Uhuru.
In the matter of the ICC case against President Uhuru, President Kiir expressed his support to his Kenyan counterpart. Kiir said his country will stand with the people of Kenya.
"It is something that we will stand together with our brothers and sisters in the Republic of Kenya," Kiir declared.
For his part, Uhuru Kenyatta expressed his support for the implementation of the cooperation agreements for both countries of Sudan and South Sudan.
"I want to assure you that Kenya will indeed play her role to ensure that all parties to the agreement actually fulfill and live to the letter and spirit of that accord for the mutual interest of both nations," President Uhuru assured.
This is the first ever visit abroad made by the newly Kenyan elected President Uhuru Kenyatta to South Sudan. On his first ever visit abroad the Kenyan President was warmly received amid tight security.
Around a hundred Kenyan citizens gathered at the Juba International Airport to receive their president on Thursday. The Kenyan leader was accompanied by a delegation that included the country's foreign minister.