Justice Ministry tables NSS, 3 other bills in parliament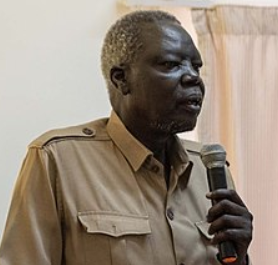 Justice Minister Ruben Madol Arol. (File photo)
The Minister of Justice and Constitutional Affairs, Justice Ruben Madol Arol, on Monday, tabled the long-awaited National Security Service Act 2014 (Amendment) Bill 2023 in parliament together with other three bills after they were passed by the Council of Ministers.
The other bills are the Public Financial Management and Accountability Act 2011 (amendments) Bill 2023, The Bank of South Sudan Act, 2011, (Amendment) Bill 2023, and The Banking Act 2012 (Amendment) Bill 2023.  
The new amendments in Section 55 of the National Security Service Act strip the powers of the security personnel to arrest, detain, monitor communications, and search and seize property.
In the proposed amendments, the National Security Service will also be overseen jointly by President Salva Kiir and First Vice President Riek Machar.
While reading the bills in parliament, Minister Madol revealed that during the amendment process, members of the National Constitutional Amendment Committee (NCAC) found it hard to delete or retain Section 55 of the Act.
"There were strong arguments for deletion of the section on the basis that it is prone to abuse by the service and that arrest and detention should be law enforcement functions of the police not of the national security," he said.
He however commended the principals of the peace agreement for reaching a consensus on the issue.
The Public Financial Management and Accountability Act 2011 (Amendment) Bill 2023 aims to promote transparency, accountable management of national wealth and resources, the rule of law, and democracy during and after the transitional period as stipulated in the agreement.
According to John Agany, the chairperson of the information committee who also doubles as the TNLA's spokesperson, the four bills were referred by TNLS Speaker Jemma Nunu Kumba to the relevant committees for scrutiny and they will report after 14 days.
"Now what has happened is that the four bills have been tabled by the justice minister and they are referred to the respective committees," he said.
 Which in return they will table it in two weeks" he said.