Juba University to review fees policy after students' protest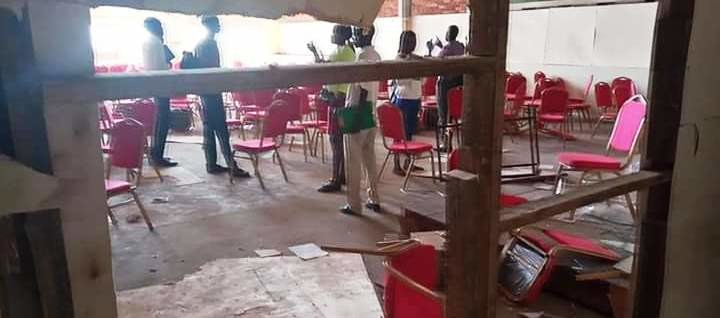 The management of the University of Juba has decided to review the tuition fees policy following students' protest that had paralysed business in the college of engineering.
Students protested against the administration's move blocking students who have not cleared fees from sitting final examinations. The university's tuition fees vary from college to college per academic year.
The students went on strike on Wednesday morning, vandalizing chairs, tables, windows and doors.
Professor John Akec, Vice Chancellor of the University of Juba, told Radio Tamazuj that the institution will review the tuition fees policy. He further said the entire examinations have been halted.
"Most of the students managed to pay fees but some of them failed to pay, so these are the students who staged protests, especially engineering students," he said.
"The situation now is calm but we will review the entire tuition fees policy. We will announce another timetable for final examinations because we have suspended the examinations," he added.
"We had a policy that the students had to clear their fees first before they are allowed to sit exams but it didn't work. So we will try another policy next year by allowing them to pay in installment," he added.
Akec emphasized the need to maintain fees, saying tuition fees contribute to the running costs of the high learning institution.
Gai Maroth Bol, a student in the college of Arts and Humanity, said that the decision stopping students who have not cleared tuition fees from sitting examinations was issued on Saturday.
"The decision was taken on Saturday, so some students cannot pay fees within this short period of time," she said.
Emmanuel Atit, another student, said some students are unable to pay tuition fees because their parents or guardians are working for the government.
"If you look at the economic situation in our country, the government is not paying the civil servants, so many families spent months without getting their salaries," he said.
The University of Juba is one of the five public universities in South Sudan. It was founded in 1975 in response to the need for higher education in southern areas of Sudan.