Juba-Nimule highway accident leaves soldier dead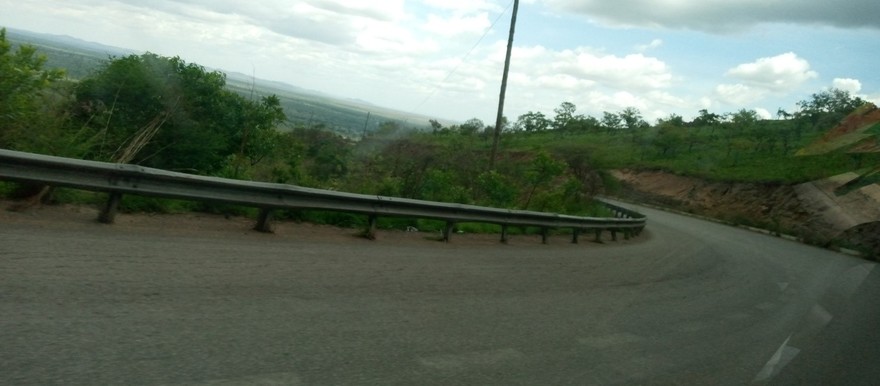 Juba Nimule Highway at Gordon Hill [Photo: Radio Tamazuj]
A military vehicle belonging to the South Sudan People's Defence Forces' (SSPDF) 7th Division collided with a Ugandan registered FUSO cargo truck along the Juba-Nimule highway on Friday morning leaving a soldier dead on the spot.
Traffic police said the accident happened near Aru Junction while the military car was traveling from Magwi to Nimule and the truck to Juba from Nimule.
The Ugandan driver, according to traffic police, tried to escape but was arrested in the Nyolo area and is currently being held in Nimule town.
"The military car was coming from Magwi to Nimule, while there is a vehicle called FUSO going from Nimule to Juba. They collided on the road so the military car was knocked on their right-hand side and it is known that in South Sudan people have to move on the right-hand side, not like Uganda. I don't know if this driver thought he was still in Uganda, that is why he knocked on the car," Captain Juma George, the director of traffic police in Nimule town, told Radio Tamazuj on Friday evening.
"The military car had two people. The driver who is a soldier is called Sadam Khamis John died, while the other soldier who was with him did not sustain any serious injury. He has some bruises and small injuries," George added. "The Ugandan driver decided to drive on and he was arrested in Nyolo and the police brought him to Nimule. He is fine and nobody beat him and he will be investigated in Nimule."
The traffic director urged East African drivers to respect South Sudan's traffic rules by driving on the right-hand side when in the country.
"Everyone upon reaching here at the border should always follow the right-hand side because in South Sudan people use the right hand. If you are a Ugandan, South Sudanese, Kenyan, Tanzanian, or Rwandan this is my message to all," Capt. Juma advised.
The Executive Director of Magwi County, David Ocheng Tukwaro, confirmed the incident.