Juba denies withdrawing its army from border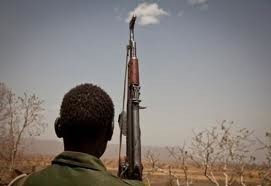 The South Sudan government on Friday denied news reports that it had started the process of withdrawing its army from the border areas with Sudan. His remarks came on Friday just ahead of the conclusion of the latest round of north-south talks in Addis Ababa.
Col. Philip Aguer, the spokesman of the South Sudanese army (SPLA), told Radio Tamazuj on Friday morning that the news agency report on the subject was unsourced and untrue. He instead clarified that the issue of withdrawal is connected to demarcation and determination of the demilitarized zone.
"How can SPLA pull back from the border and their territory being bombed recently in Western Bahr al-Ghazal state during the first week of this month?" Aguer asked.
Aguer added that their forces are still maintaining their positions until the two parties agree upon a joint plan for withdrawal of their forces from the border.