Juba demands investigation of killing of Abyei leader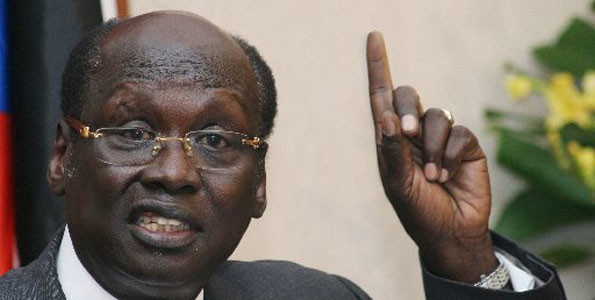 The South Sudanese government has demanded an investigation into the killing of the Ngok Dinka paramount chief killed in the disputed Abyei region last weekend.
Speaking at a press conference at the Ministry of Information, government spokesman Barnaba Marial Benjamin condemned the incident which also claimed the life of a UNISFA soldier.
"The Republic of South Sudan deeply regrets the killing of paramount Chief Kuol Deng Kuol of Abyei and a UNISFA soldier that occurred Saturday May 4th 2013, when the Misseriya ambushed them between Difra and Goli on his return from Difra in the company of UNISFA commander. The government of the Republic of South Sudan strongly condemns this cowardly act," Marial stated.
His government also urged the African Union (AU) and the international community to investigate the incident in an effort to bring the perpetrators to justice. "Misseriya is the one who killed the paramount Chief under the protection of the UNISFA. That is why we are asking the UNISFA and the African Union. We are asking the United Nations and the African Union to investigate and indentify the culprits of this crime," added the minister.
Marial also revealed that following the incident on Saturday, President Salva Kiir telephoned the Sudanese President Omar al-Bashir and the UN Secretary General Ban Ki Moon, reporting that both leaders condemned the incident and paid their condolences to the families of the victims.
He also reported that the incident will not stop an expected referendum on Abyei's future from taking place in October this year and added that President Kiir will fly to Khartoum this month to visit his Sudanese counterpart.
In a communiqué, the AU condemned what it described as a "heinous crime" but called on Sudan to investigate and punish the wrongdoers. "The Chairperson of the commission urges the Government of Sudan to ensure that all those responsible for this dastardly act are brought to justice immediately," reads part of the communiqué.
Likewise, the U.S ambassador to Juba, Susan Page, condemning the killing also called on both countries to remain calm in order to avoid any further escalation of violence.
"The U.S Government strongly condemns this violence and demands that those responsible be held accountable. We urge the governments of South Sudan and Sudan to exercise restraint during this sensitive and volatile period. We appeal for calm in Abyei and implore all sides to avoid further escalation of violence."
The contested, oil-rich region of Abyei was originally due to hold a referendum to coincide with South Sudan's in 2011. However, disagreements on eligibility to vote between the resident Dinka Ngok and the nomadic Misseriya groups and resulting insecurity resulted in postponement. The African Union, who recently mediated the implementation of a series of cooperation agreements, are behind proposals to hold a referendum on its future this year.
File photo: Minister of Information Barnaba Marial Benjamin
Related: Exclusive: Brother of slain chief describes Abyei attack (5 May 2013)