Juba court to issue final verdict on Machar's ex-adviser case next week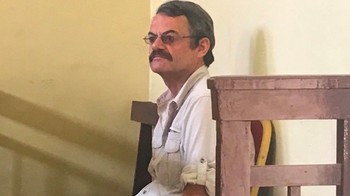 A South Sudanese special court will issue its final ruling on the trial of South African national who faces the death penalty on charges of conspiracy to overthrow the government in Juba next week.
William John Endley had served as an adviser to South Sudan's rebel leader Riek Machar. He was arrested in South Sudan in August, 2016. William, a retired army colonel, was accused of the supply of weapons, espionage, waging an insurgency, sabotage, terrorism and illegal entry into South Sudan.
The court said William's witnesses had been served with a notification to testify, but none of them called by the defense team appeared.
Presiding judge Ladu Eriminio said the court rejects the request made by the defense team to given ample time for the witnesses and the final judgment will be given on the 23rd of this month.
"The court has concluded that the defense failed to bring his witnesses, the case is closed," he said.
William was charged alongside James Gatdet Dak, the former official spokesman of Riek Machar, who was sentenced to death by the same court last week for insulting inciting violence and insulting President Kiir.
Security attaché at the South African embassy has been
attending William's case in Juba.