Juba City residents decry sudden surge in commodity prices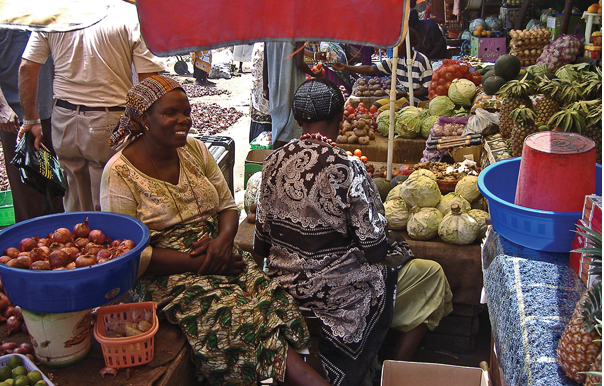 Vendors in a market in Juba. (Radio Tamazuj photo)
The residents of Juba City have raised concerns over the high cost of living occasioned by the sudden increment of commodity prices since the beginning of May.
Rwaia Nebil, who sells tea in the Tongpiny residential area of the city, said tea and sugar prices had shot up, affecting her business.
"Previously, we were buying a kilo of sugar at SSP 800 but at the moment a kilo of sugar is SSP 1,000.  A 25 kg sack of sugar was 10,000 but has now shot up to SSP 12, 000," she lamented. "A small cup of tea was SSP 100 and the big one was 150 but now cost 150 and SSP 200 respectively. Green and hibiscus (kerekede) tea are rarely seen but when available, it costs SSP 1,000. When you sell a cup at SSP 500, people complain."
"We are working but there is no profit and yet we have school-going children who require exorbitant school fees. Where can we get that money from?" she asked.
Nebil says most goods are now rare in the market despite being expensive due to the recent appreciation of the US dollar against the South Sudanese Pound.
"Things like tomatoes are nowadays scarce in the market and four tomatoes cost SSP 500. Even if you buy at that price it cannot feed the home," she said. "We are appealing to our government to resolve this issue. We want them to go to the trader's  union, and find out why prices are increasing and find amicable solutions."
Last week, the Bank of South Sudan declared a new official exchange rate of 1 USD to 474 SSP but as of Wednesday, the exchange rate in the parallel black market was 1 USD to 480 SSP.
Neva Benjamin, a mother of four living in the classy Hai- Amarat suburb where ministers live also decried the skyrocketing commodity prices and urged the government to intervene.
According to Marley Richard, a taxi driver, the soaring prices are caused by high fuel prices.
"Previously, from Gudele to Juba town cost SSP 150 in public transport but currently it is up to SSP 350 which is too expensive," he said. "My appeal to the government is that they should reduce the prices of fuel and also start refining oil here in the country."
Like the others, James Wani, a businessman who sells vehicle tires along the airport road, wondered how fuel and commodity prices leaped so suddenly last month and demanded that government reduce taxes.
"We need the government to explain this issue and also see if they can reduce taxes on fuel imports. It will be fine if fuel prices reduce," he said.
Two weeks ago, a liter of fuel coat SSP 550 but currently goes for SSP 750 at the fuel stations in the city.
However, the chairperson of the chamber of commerce of Central Equatoria State, Robert Pitia, said the rising prices of commodities and fuel which are imported from East Africa cannot be mitigated by the government. He said prices have shot up across the region but that the government can review its taxation policy and reduce levies.
"The issue of our taxation policy from the national government and the local government, Juba County, City Council needs to be worked upon so that people can pay taxes based on their capital and not on assumptions," he said.
Pitia faulted multiple tax collectors, including security agencies, the Islamic Council, and other groups, for being responsible for levying illegal taxes in markets across the city.
"There are some institutions that are collecting money like the fire brigade. What are they collecting this money for" They also go to the market," he said.  "In the Konyokonyo market, there are some people collecting money and say that they are from Islamic council, these are all contributing to the high prices of goods."
Last month, the World Bank Group warned African leaders to brace for a challenging year as the Russia-Ukraine war continues.  The interim report released about two weeks ago said that the war in Ukraine is hitting African countries through higher commodity prices as a result of disruptions to supply chains and a reduced inflow of tourists to the continent.
In South Sudan, the high cost of living is forcing families to weigh whether to send children to school or focus on their livelihood as food prices soar.