Juba and Khartoum discuss border demarcation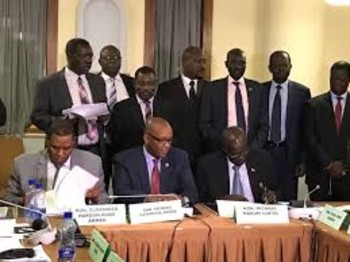 Photo: joint border committee between Sudan and South Sudan (peaceau)
The joint border committee between Sudan and South Sudan met in Sudan's capital Khartoum on Wednesday, with the aim of resolving the border impasse between the two countries.
Sudan's Minister in the Office of the President, Al-Rashid Harun, told the press in Khartoum that the meeting is crucial to create strategic relationships between the two countries built on lasting peace and stability.
Abdallah Assadiq, head of the committee from Sudan said the meeting aimed at preparing a comprehensive report to prepare for the actual physical demarcation of the joint border.
For his part, South Sudan's head of the joint committee Darios Deng said the meeting was a part of a continuation of meetings that indicate the agreed border points between the two countries.