Juba and Khartoum agree to open common borders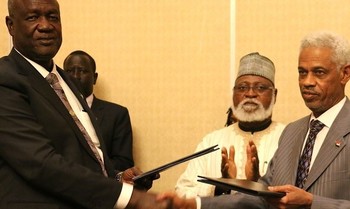 Sudanese Defense Minister, Ahmed Awad Ibn Auf and his South Sudanese counterpart, Kuol Manyang on Monday agreed to reopen four border routes which remained closed since due to insecurity between the two countries in the past.
Addressing the press after their meeting in Khartoum on Monday, Minister Ibn Auf said they have ironed out pending issues and that they are ready to implement the agreement.
For his part, Minister Manyang revealed that the two countries have agreed to implement the cooperation agreement and stop incitements and violence along the common border.
The agreement is seen as preemptive to President Salva Kiir's visit to the Sudanese capital, Khartoum today which is expected to discuss outstanding issues between the two countries and the ongoing conflict in South Sudan.