Journalists' union urges government to unblock news websites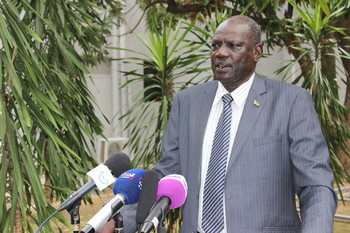 File photo: Minister of Information Michael Makuei
The Union of Journalists of South Sudan (UJOSS) called Friday on the South Sudanese authorities to stop blocking access to four news websites in the country.
South Sudanese government had blocked websites of at least four independent media outlets including Radio Tamazuj over claims "they have been reporting critically of the government."
The Secretary General of the Union of Journalists, Edward Ladu Terso, told Radio Tamazuj on Friday that the government had taken a wrong decision to censor news websites during the national dialogue process.
Terso denounced the move as a violation of freedom of expression in South Sudan, urging the government to unblock the websites of the four independent media outlets.
He pointed out that the journalists' union respects and promotes press freedom, adding the authorities should not promote censorship.
He noted that government officials themselves need to access the blocked news websites in order to know what is happening in the country. "Information should not be blocked from the people of South Sudan," he stressed.