Journalist detained for allegedly quoting rebel spokesperson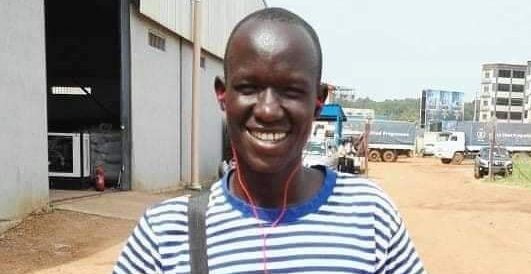 Journalist Jackson Ochaya (File photo/courtesy)
National security personnel in Juba have detained a newspaper journalist over a story on accusations between government and rebel forces, a media rights group said.
The journalist was detained at the National Security Service headquarters in the Jebel neighbourhood of Juba. He was arrested on Tuesday last week and is still detained without clear charges.
Mary Ajith, the chairperson of the press rights group Association for Media Development in South Sudan (AMDISS), told Radio Tamazuj that security personnel detained Jackson Ochaya who works for No. 1 Citizen Newspaper.
Ochaya's arrest underscores continuing harassment of journalists in South Sudan, despite the ongoing efforts to implement the September 2018 peace deal. The agreement provides for the review of security sector laws, including the National Security Service Act.
Mary Ajith said Ochaya's arrest came after the publication of an article recently that reportedly annoyed the National Security Service.
"According to the email we received from the newspaper, they wrote a story of the army accusing the National Salvation Front (NAS) of an attack and then NAS denied," Mary Ajith said." So, the problem was why did they communicate with the spokesman of the National Salvation Front and how did they get his contact."
Ajith condemned the detention of journalist Jackson Ochaya, saying the security acted completely contrary to the rights of the journalists and freedom of media.
"Our next step is to look for ways of dialogue between the Media Authority and the National Security Service. Honestly, these two organs need to harmonize their roles and responsibilities, because the Media Authority Act says all cases of journalists should be handled by the Media Authority," she said.
For its part, South Sudan journalists' union confirmed that security agents had detained a journalist in the capital Juba.
Oliver Modi, the union's chairman, said Jackson's detention arose from an article their newspaper wrote about illegal gold mining in areas controlled by the rebel group National Salvation Front (NAS).
"Jackson was arrested because of a story he wrote on August 25. He wrote a story about illegal gold mining in the areas where NAS is operating, and the story says NAS denied the accusation," he explained.
Modi said the union will talk to the Media Authority to address the matter through the existing media laws.
Government officials were not immediately available to comment on the journalist's detention.
South Sudan's constitution requires detainees to be produced before a court within 24 hours.