Jonglei State: 8 traditional chiefs suspended for rejecting Duk County commissioner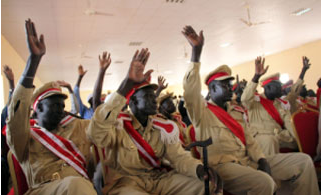 South Sudanese cheifs
The new Duk County commissioner in Jonglei State has suspended eight traditional chiefs from parts of the county for rejecting his appointment.
Last month, a section of traditional leaders from the Dukpadiet area disowned the new county commissioner in a petition addressed to the state deputy governor and state SPLM party leader Antipas Nyok Kucha.
Speaking to Radio Tamazuj over the weekend, Sultan Deng Mabur, the suspended acting county paramount chief, said: "Our suspension came after I closed 10 illegal revenue collection points erected by some youth in Bor town at the swampy fishing areas (Toich d'Hol)."
He added: "The commissioner was not happy, saying I overstepped my work. But I took the action because the existence of those points generates insults to us as community leaders."
The traditional leader denounced his suspension as unfair.
"After disagreeing in Bor, I asked the commissioner that we go to Duk to resolve our issues which he first accepted but two days later while in Duk, he overturned my work. From there the community was not happy and so he was rejected when he came to Dukpadiet town."
Sultan Deng Mabur narrated that last week the government called eight chiefs to Bor, informed them about their suspension, and ordered them not to leave Bor town until the governor returned.
"As a chief, the suspension is unfair because I was brought by my people, not the government," He said
For his part, John Chatim, the Duk County commissioner, confirmed the suspension of the eight traditional chiefs without providing details, saying his move was administrative.
"There is nothing to be discussed about it. It is an administrative issue. Those suspended are people interfering with government work," he said.