Jonglei governor swears-in newly appointed opposition officials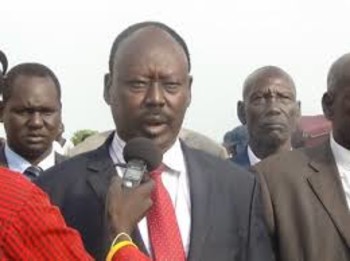 File photo: Governor Philip Aguer
The governor of South Sudan's Jonglei, Philip Aguer, on Monday swore-in two ministers and chairperson of investment commission in the state.
The officials are allied to the armed opposition faction led by the incumbent First Vice-President Taban Deng Gai. The event took place in Bor town.
The officials who were sworn in included youth minister, Dut Abraham, Simon Thon Thok minister of labor and Achiek John, chairperson of the state investment commission.
Speaking during the wearing-in ceremony, Governor Aguer said the appointment in line with the 2015 peace accord.
The governor urged the opposition officials to work together with their colleagues for the betterment of the state.
For his part, Simon Thon Thok, the opposition representative during the event pledged to work together for the sake of peace.