Jonglei governor demands return of abducted children and stolen cattle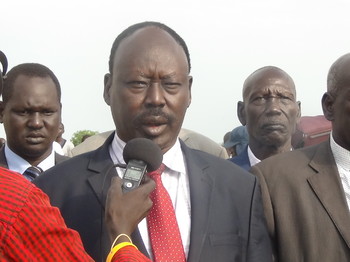 File photo: Governor Philip Aguer speaks to reporters upon arrival in Bor on 20 July, 2017.(Radio Tamazuj)
The governor of Jonglei state Philip Aguer Panyang urged Boma authorities to return all stolen cattle and abducted children.
In a press statement in Bor on Thursday, Governor Philip appealed to his counterpart Ismail Konyi to arrest the perpetrators and return the stolen cattle and abducted children to the people of Bor North County.
He further said the national government in Juba has ordered Governor Ismail Konyi to go to Pibor to arrest the perpetrators.
Last week, at least 30 people including women and children were killed in a cattle raid carried out by suspected armed youth from neighboring Boma state on Kolmarek village in Bor North County. The attackers have reported took over 5,000 cows in Bor North County.
The pastoralist Dinkas from Jonglei and their Murle neighbors in Boma state have for long been wrangling leading to cattle raids and child abductions. The two sides signed a cessation of hostilities agreement in Juba in May but the deal could not hold.