Jonglei civil society group holds election despite NSS interruption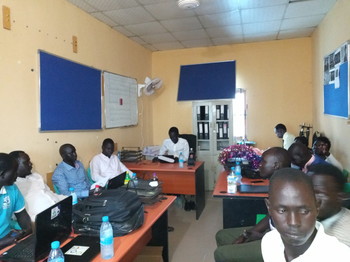 Members of the civil society Jonglei Institute for Peace, Democracy and Development (JIPDD) on Saturday voted in new leadership, a day after the National Security Service (NSS) officers disrupted the exercise.
On Friday, members of the NSS raided JIPDD offices, disrupting the elections and arresting 16 people. However, those arrested were released from detention four hours later.
The elections were then conducted on Saturday after approval by the NSS.
The chairperson of the JIPDD Electoral Committee Deng Garang Bul, told Radio Tamazuj after the swearing-in ceremony on Sunday that the elections were free and fair.
"People should learn from JIPDD that democracy at any level can also be allowed as a way of getting peace and peaceful coexistence among the people. So am urging people to have transparency," he said.
Juuk Othana Mading, the newly elected executive director said his priority would be to enhance peace building among the locals in Jonglei and advocate for policy changes in the government.