Jonglei civil servants temporarily call off pay protests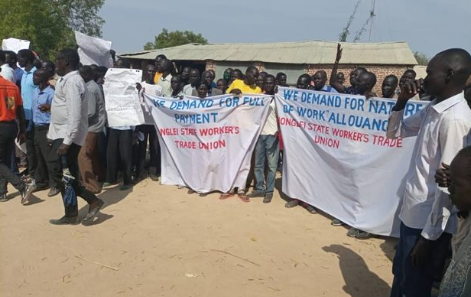 Civil servants protesting in Bor, Jonglei State over the weekend. (Courtesy photo)
Civil servants in the Jonglei State capital, Bor town, on Tuesday temporarily called off protests which were running into the third day after meeting state authorities on Tuesday.
On Friday last week, the civil servants rejected the July salary arrears and announced state-wide protests over unpaid allowances.
Abraham Mading Amer, the acting head of the Jonglei workers union, told Radio Tamazuj that they met the state government officials and that their meeting was fruitful.
"This (Tuesday) evening, we met the state government, including a representative sent by the governor because he is in Juba," Mading said. "The meeting was fruitful as the government promised that we will have allowances included in this new pay structure."
The workers' representative called on the rest of his colleagues to remain vigilant as the government processes the July pay.
"We are waiting to see what will happen tomorrow. So, I want to call on the civil servants to remain calm. If the government fails to deliver on its promise, we will get back to the street," he added.
However, Chol Ajak, a civil servant, said they will not trust in the state government's promise until their demands are met.
For his part, Wiyual Gatkuoth, the state finance minister, admitted the state government held a meeting with the representatives of the protesting workers without providing details, saying the resolutions will be made public when the meetings are concluded.