Jonglei civil servants receive August salary arrears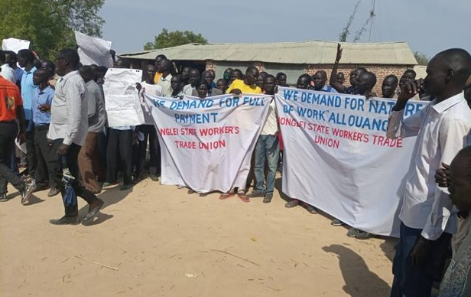 Civil servants protested over allowances in Bor, Jonglei State two weeks ago. (File photo)
Civil servants in Bor town, the capital of Jonglei state have received August salary arrears barely two weeks after being paid the July salary arrears following protests over the same. 
Speaking to Radio Tamazuj, Abraham Mading Amer, the acting head of the Jonglei Workers' Union, said they started receiving the pay with full privileges last week. 
"The payment has been ongoing over the past five days. Thank God our pay continues to come with the 100% increment and the allowances," he said.
Deng Kuol, a teacher in Bor, said he received his August salary and appealed to the government to clear all the remaining salary arrears. 
"We are in a new year but we are still four months back. We have not been paid since September. So, we really want all our arrears cleared," he said.
 
For his part, Tuong Majok, the state cabinet minister and acting governor, said civil servants will be paid September salary arrears next week. 
"We are done with the payment of salaries for August. Our civil servants are happy because their demand has been met and as a government, we are happy for their cooperation. By next week, we will start giving out salaries for September," he said. 
Last December, civil servants in the Jonglei state capital, Bor, rejected their July salary arrears for weeks as they demanded that the state government include allowances in the reviewed salaries.