Jonglei citizens displaced to Mangala decry dire humanitarian situation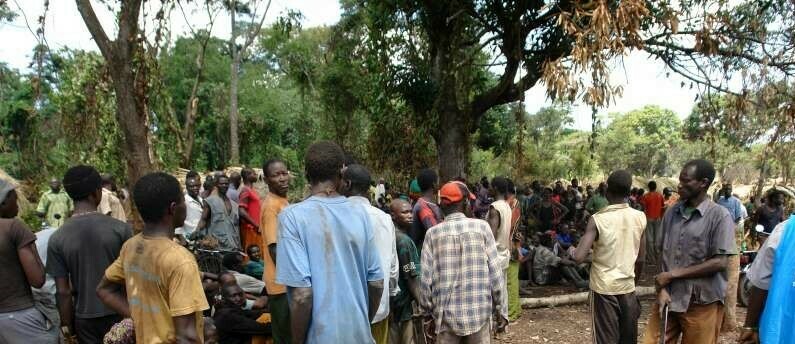 Refugees and displaced gather for a meeting with UNHCR and its partners in Source Yubu to discuss their situation. [© UNHCR/T.Garrett]
The displaced people from Jonglei State who are settled in the Mangala area of Juba County in Central Equatoria State have complained about their dire humanitarian situation amidst aid cuts.
Speaking to Radio Tamazuj over the weekend, several of the displaced people said they had gone for months without receiving food aid.
Alakiir Mayen said they have been surviving on wild fruits and fish since August.
"Our situation is dire in Mangala. We last received food rations in August last year. We have since been relying on fish because we are near the Nile and wild fruits called 'Lalob' as food," she said. "Also, our children are not getting health and education services so we want our government to intervene."
James Anyang, another displaced person, said they initially received relief food and other items from aid agencies but that these have since stopped.
"Since we arrived in 2020, we have been receiving some support from aid agencies until August when we stop receiving any support," he lamented. "Also, health services stopped in August and people are now surviving on wild fruits."
For his part, Dau Akoi Jurkuch, the head of the displaced community in Mangala, decried the dire situation and called on government and aid agencies operating in the country to come to the aid of the thousands of displaced people.
Mangala is home to about 41, 000 displaced people who fled the floods in parts of the Jonglei State in August 2020.