Jok Madut faults authorities over his arrest in Juba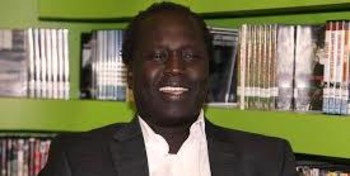 File photo: Dr Jok Madut Jok
South Sudan's prominent academic Dr Jok Madut Jok has faulted the relevant authorities for rushing to arrest him in Juba on Monday saying his arrest was unprocedural.
Jok, who is the co-founder of the Sudd Institute, was arrested at Juba International Airport and taken to the Central Prison in Juba.
Jok spoke to Radio Tamazuj this morning inside the Central Prison in Juba.
He explained that he was arrested over a family issue. "It is not my problem. It was a brother of mine who made a girl pregnant, so the family of the girl was pursuing a case that the girl was underage. My brother was bailed out pending trial, and during the bail out, he went to Sudan," he said.
"My issue now is the bail because I am the one who bailed him out," he added.
The South Sudanese scholar further said proper procedures were not followed when he was arrested at the airport, pointing out that he was not summoned to any competent court of law.
"There was no any letter of summon from court. What I received was a warrant of arrest. There was no way for me to know that there was court date," he explained.
"The issue now is that I have been arrested in a non-procedural way. I am now in the Central Prion in Juba, "he said.
The renowned scholar pointed out that he will remain in jail pending trial until after Eid al-Adha holiday.
Meanwhile, prominent activist Edmund Yakani said a team from the Sudd Institute team visited Dr. Jok this morning. "He is doing well. He is at the Central Prison in good health condition with access to means of communication," he said.