JMEC urges South Sudan parties to protect aid workers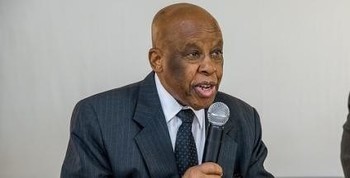 Photo: JMEC Chairperson Festus Mogae
As the world marked this year's World Humanitarian Day on Sunday, the Joint Monitoring & Evaluation Commission (JMEC) called on all parties to the conflict to do more and ensure aid workers who diligently serve the society's most vulnerable, are safe and protected.
Attacks on humanitarian aid workers are not only against the Agreement on Cessation of Hostilities, Protection of Civilians and
Humanitarian Access (ACoH) as signed in December 2017, but are also against international humanitarian law," JMEC said in a statement.
In the recent past, aid workers in South Sudan have unfortunately been targeted, threatened, abducted, killed and aid access obstructed, in blatant violations of what the ACoH was intended to achieve.
JMEC reminded the parties to the agreement that they have a duty to ensure that aid workers in their midst are not targeted, their safety and security is guaranteed at all times, and that hindrances to access the vulnerable and displaced population, are cleared to facilitate safe humanitarian operations.