Japan offers in-kind support for military training centres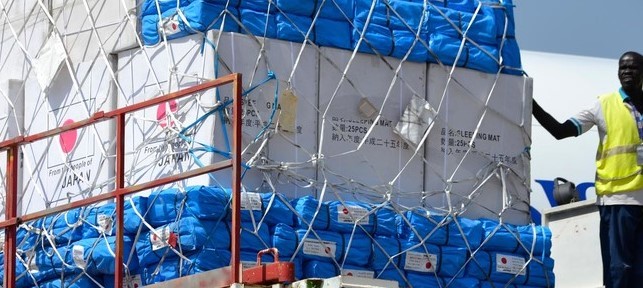 Japan sent aid shipments to Juba as part of its efforts to support the implementation of the security arrangements in South Sudan, a Japanese official said today.
Speaking to reporters at Juba Airport, Japan's Ambassador to South Sudan, Seiji Okada said the shipments of aid, including tents, water containers, blankets, sleeping mats, among other items, will be sent to military training centres.
"The total amount of in-kind support is 260 metric tons, which is equivalent to 4 million USD. This is the first arrival because we are bringing the support in seven flights," he explained.
According to the Japanese diplomat, the purpose of the aid is to support the implementation of the transitional security arrangements, especially the training of the unified forces.
Ambassador Okada called on the parties to the peace agreement to speed up screening and training of forces that will form the unified force, stressing the need to form a unity government by 22 February.
"We are very happy to receive this in-kind support from the government of Japan," said Gabriel Changson Chang, Deputy Chair of National Pre-Transitional Committee (NPTC).
He added that the donated items will be distributed to the various military training centres next week." Those who have been moved from the cantonment areas to the training centres will now get shelters and other necessary materials," he noted.
Changson, who is also leading an opposition group, said the rival leaders are determined to shore up implementation of the transitional security arrangements. He added that training of the necessary unified force will begin next week.
"The forces are reporting themselves to the training centres, so I am sure the majority will be there next week. During our meeting with security sector mechanisms, we advised them to start the process of training with the first batch so that they are graduated gradually," he explained.
For his part, South Sudan's Deputy Foreign Minister Deng Dau Deng thanked the government of Japan for providing in-kind support to the military training centres. He said the shipments of aid will be distributed to government and opposition troops.
The government official appealed to the other international partners to support the implementation of the transitional security arrangements.
The process of gathering fighters into military training camps across the country with a view to forming a unified army is a cornerstone of the 2018 peace deal.