Japan donates $350,000 as cantonment sites lack water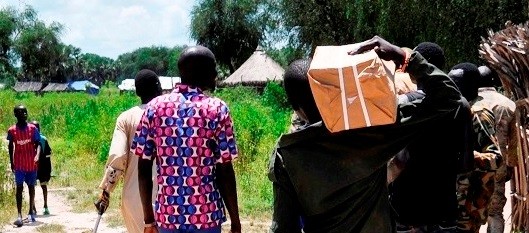 SPLA-IO soldiers carry boxes with forms delivered by JMCC members to register forces in Ayod County on September 24, 2019. (Photo: Radio Tamazuj)
Japan has provided a new assistance package of 350,000 USD to help supply water to cantonment sites, where forces complain over lack of water.
Martin Elia Lomoro, South Sudan's cabinet affairs minister, welcomed the contribution from Japan to provide clean water to cantonment sites.
The minister, who is also the secretary of the National Pre-Transitional Committee (NPTC), told reporters in Juba on Wednesday that the two countries signed the cooperation deal as part of efforts to shore up implementation of the security arrangements.
Martin said the contribution from Japan will be used specifically to supply water to the cantonment sites. He disclosed that the project will be implemented jointly with the IGAD office in Juba.
"The funds will be managed by IGAD, so IGAD will use its procurement procedures to identify the provider and it will work with us to identify where boreholes will be dug," he explained.
The South Sudanese official pointed out that the implementation of the water project will start soon.
Seiji Okada, Ambassador of Japan to South Sudan, confirmed the contribution from the Japanese government towards the provision of water to cantonment areas in South Sudan. "Lack of water and other basic services has been expressed by the forces on the ground," he said.
The Japanese diplomat urged the parties to the revitalised peace agreement to speed up the process of creating a unified force.
Mr. Okada also called on the South Sudanese parties to embrace the spirit of compromise and resolve outstanding issues before the formation of a transitional government on November 12.
He said Japan will continue to support South Sudan's quest for lasting peace. Okada added that his country would stand with South Sudanese towards realization of stability.
Creating a unified army and determining the number of states and their boundaries remain the biggest challenges in the peace deal.