Jamam clinics see 600+ severely malnourished children from Blue Nile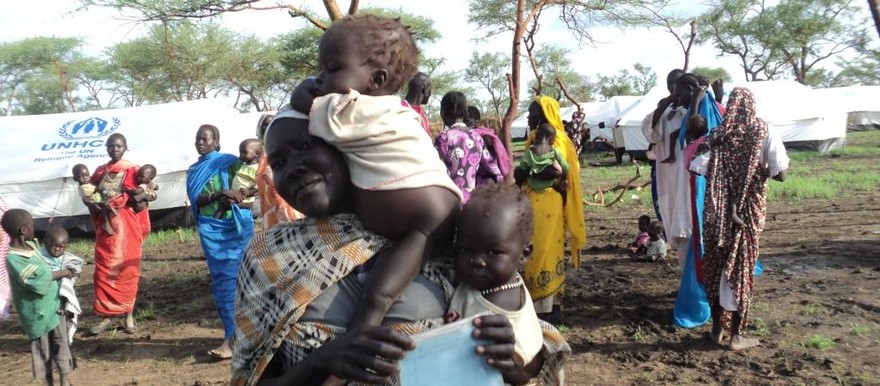 More than 600 severely malnourished children are in treatment in clinics in Jamam camp and nearby sites hosting refugees from Blue Nile. Infants and mothers at an out-patient feeding centre run by Doctors Without Borders (MSF-Holland) in Jamam Camp are weak from days or even weeks of walking.
The medical clinic run by the Dutch aid agency in Jamam is now treating 32 children in its in-patient care center for severe malnourishment, and another 602 severely malnourished children in out-patient care, according to a doctor at MSF-Holland. The aid group runs feeding centers for malnourished children in Jamam and Kilo 18 transit site, but provides only out-patient care at Kilo 18.
Aid agencies and the United Nations were taken by surprise when a group of more than 30,000 refugees crossed the border in early June, stretching resources thin. Field-level officials in various agencies admit that logistics is a huge challenge and that they lack sufficient vehicles, tractors and potentially also fuel to transport refugees and to run the relief operation. UN-backed road-building and maintenance operations in the area began only about two weeks ago just at the onset of seasonal rains that are turning the clay soils here into a morass.
Yesterday MSF-Holland and UNHCR issued food rations for two weeks to 54 mothers and children at a medical transit center in Jamam camp. Mothers holding malnourished children were given sacks of supplies of lentils, sorghum, salt and cooking oil.
The women receiving the food told Radio Tamazuj that they had fled from villages in the Ingessana Hills, including Jego, Jam, Tiyfol, Taga, Mugum, and Gabanit. They arrived at Kilo 18 transit site north of Jamam Camp about two weeks ago.
Kilo 18, which takes its name from the distance it lies from Jamam, hosts about 14,000 people. In recent days UNHCR has sent convoys to the site to move groups of refugees to Yusuf Batil Camp, which lies east of Jamam closer to the county capital of Bunj. Since Sunday the UN moved 188 people from Kilo 18 to Yusuf Batil. They arrived yesterday after over-nighting at a separate transit location in Jamam.