Islamic leader in Aweil 'demands for centralized system'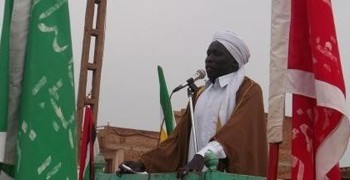 File photo: An Islamic leader in Wau during Eid celebrations, 2012 (Radio Tamazuj)
A Muslim leader in South Sudan's Northern Bahr al Ghazal has called for federal system of governance to replace the current decentralized system.
Centralization is type of government in which powers of government are concentrated at the centre and exercised by a central authority.
Anyar Madut Akech, Secretary General for Northern Bahr el Ghazal Islamic Council, told Radio Tamazuj on Wednesday he welcomes the national dialogue in the country and urged all the people of South Sudan to accept it.
He argued that the current decentralized system has caused problems in the country because the government is being run based on ethnic interests.
Madut accused South Sudan leaders of fueling conflicts. The Islamic leader called for peace and stability in the country.